Monthly Parking
Park Monthly with iPark…

because your car deserves the best!

Please Note: Our billing and payment systems are powered by two different service providers.
When you register for both options you may have two different usernames and passwords.
Either service directs you to different sites.
VIEW STATEMENT
You must register first
to view bills.
Already registered?
Sign in here to view bill.
MAKE A PAYMENT
You can register an account to make online payments or make a one-time payment as a guest.
Already registered?
Sign in here to make online payments.
NOTE: Your statement will not be available to view or download when you first register.
You must wait after your first billing cycle to view your statement.
ALSO: This registration will not automatically enroll you for recurring or one-time payments.
You must go to step 2 to register.

Automated Payments
and Electronic Services

Secure
Enrollment

Safe, Clean and Secure
Parking Accommodations
When creating an account or making a payment, please enter the Account Number and Full Name exactly as it appears on your invoice.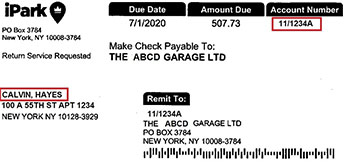 WANT A QUOTE?
Give us a call on 855-472-7569 for assistance, or fill out an inquiry form here