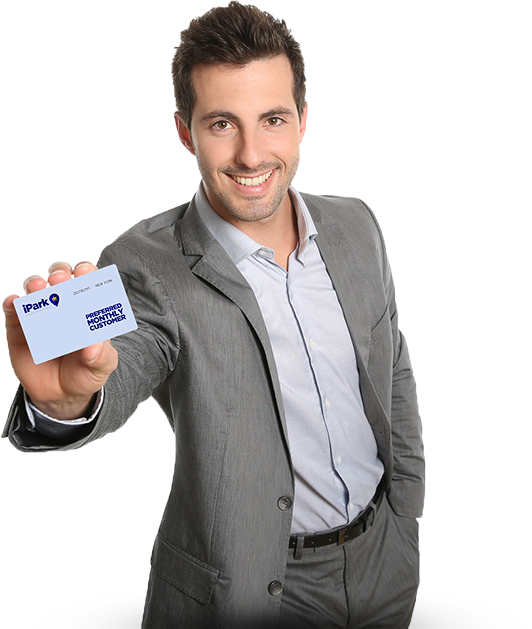 Submit Your Request
Monthly customers who enroll as an iPark Preferred Monthly Customer can receive 50% off all day, evening, and weekend rates at over 100 parking locations throughout NYC.
Eligibility
You must be a monthly parker with iPark.
Enrollment
Click Here to complete and submit the required enrollment form.
There is a one-time $5 non-refundable card activation fee. This will be reflected in your next monthly invoice.
You will receive your iPARK Preferred Customer Card in the mail in approximately 3-4 weeks.
Terms and Conditions
The iPark Preferred Monthly Customer is to be used solely by the monthly applicant and is not valid at the parking facility where you maintain a monthly parking account.
The 50% discount does not apply to monthly parking rates and may not be combined with any other discount offers or coupons.
Offer does not apply to motorcycles.
Offer subject to change.
Payment
To receive your 50% discount, you must present your iPark Preferred Monthly Card and a valid credit card to the cashier at the time of payment. Cash payment will not be accepted for ½ price parking.
Excluded Facilities
785 Garage Corp. – 2 East 60th Street, New York, NY 10022
Eleventh Avenue Garage Corp. – 552 West 30th Street, New York, NY 10001
515 NINTH AVENUE PARKING CORP. – 404 West 39th Street, New York, NY 10018
ALL NYU Medical Center Facilities

NYULMC A GARAGE CORP – 530 1ST Avenue, NY 10016
NYULMC E GARAGE CORP – 333 East 38th Street, NY 10016
NYULMC G GARAGE CORP – 400 East 35th Street, NY 10016
NYULMC H GARAGE CORP – 577 1ST Avenue, NY 10016
In addition to signing up for the iPARK Preferred Monthly Card, you can use this website to find locations near your destination, compare prices of how much it will cost to park at any of our locations, and reserve a space if you wish. If you obtain a Price and Space Guarantee, your price as a Preferred Customer is 50% of the total fee indicated on your Price and Space Guarantee.
PREFERRED CUSTOMER CLUB FAQ:
1. What is the Preferred Monthly Card?
The preferred customer card offers our monthly customers access to over 100 iPark location with an exclusive 50% off the posted rates.
2. How do I apply to become a member of the Preferred Customer Club?
Fill out the enrollment form which can be found below or call our office at 212-736-7171.
3. How long after I apply should I expect to receive my Preferred Monthly Customer Card?
It is approximately 3-4 weeks. However, we make an effort to ship it to you sooner!
4. How much does the card cost?
There is a one-time $5 fee for processing and activation.
5. Is there a monthly fee to be a Preferred Customer Monthly?
No. No fees. No hidden costs. Just being a monthly customer makes you eligible for this great offer.
6. Can I get more than one card?
Only one card per monthly parking space.
7. When does the card expire?
When you are no longer a monthly customer with iPark.
8. Can I use the card at any iPark parking garage?
You can use the card at any IPark garage except the garages listed under "Excluded Facilities." See above.
9. Can I pay by cash when I use the card?
No. The payment must be made by a credit card with the same last name as the member.
10. What if I share the car with someone who has a different last name?
Yes. We allow for flexibility and convenience to add a second name. Just add the second name at your garage as an authorized person with access to your vehicle. Ask your garage manager for assistance in making this addition.
The new card will be sent to you in approximately 3-4 weeks. There will be a one-time $5 fee to issue a new card with a second name which will be reflected in your next monthly invoice.
11. What if I have more than one car?
No problem. You can apply to receive a card for each car that you park monthly at an iPark parking facility.
12. How do I find where iPark garages are located?
Hop on our website and go to the locations tab. There you can print directions or see the exact cross streets of your destination.
13. What if I lose my card?
Email us under contact us with subject "Lost Card" and include your full name. Please note the garage at which you park monthly and your monthly number. We'll send you a replacement. Please note there is $5 processing and activation fee.
14. Do you have apps for iPhone and Android users?
We're step ahead. Our website is mobile friendly, eliminating the tedious task of you downloading an app.
15. Is there paperwork involved at checkout when I use my card?
Use the card. Sign the receipt. That's it.
16. If I forget to take my card to the garage but I know my monthly information, can I still get the 50% off?
Sorry but no. In order to receive the discount you must have the card with you at checkout.
17. Can I get 50% off for guests that park in the garage which I am a monthly customer?
The card cannot be used for guests.
18. Do I need to submit anything else along with my card?
You don't have to submit any other ID's. However your vehicle must have our monthly decal in order for our staff to accept your PREFERRED MONTHLY CARD.
If you have any questions or require additional information, please telephone us during business hours (Monday-Friday, 9:00am-6:00pm) at (212) 736-7171 and ask to speak to an iPark Preferred Monthly Customer agent.